Category Archives:
Maps
September 19, 2017 – 07:09
San Ysidro Port of Entry after Carmageddon
What about that promised 30-minute wait time?
In December 2014, the federal General Services Administration completed Phase 1B of a three-phase San Ysidro Port of Entry makeover. The construction project opened 25 new northbound lanes and 46 new primary inspection booths at the largest land port of entry in the world: on average, 50,000 vehicles cross northbound each day.
"Our traffic model indicates that if all lanes and booths are manned and operated, the expected border crossing time will dramatically decrease to less than 30 mins," Traci Madison, the agency's regional public affairs officer wrote in an email dated September 9, 2014.
While 30-minute waits did occur for a brief time, in a presentation to the Chula Vista City Council on September 12th, Anthony Kleppe, the port of entry program manager, said that the current wait for northbound vehicles at the port is about two and a half hours. In a later interview, he explained, "When we developed the project, there was a lot of discussion about latent demand. The concept of latent demand is that if you have an environment where people are waiting long periods of time to cross the border, they don't cross. Then when you open up the border and make it more accessible, people who maybe previously would have hesitated in crossing the border decide to cross. What we've seen at San Ysidro with the opening of the 1B project is about a 20 percent increase in the number of people crossing."
Now Phase 3 — the last in this $741 million project — is underway. From September 23rd through 25th, 
southbound Interstate 5 from State Route 905 to the San Ysidro port will be closed
. Thereafter, only three southbound lanes will be open to traffic until November 21st. By 2019, the General Services Administration's goal is to open 8 additional northbound lanes, 15 additional northbound booths, and 10 southbound lanes.
The new San Ysidro border reconfiguration began in 2009 and throughout the years, the General Services Administration has held numerous local meetings where they have received input from the community. In an original plan, residents had asked for a "bridge deck," that is, a covering between the Camino del Plaza bridge and the Pedestrian East-West Bridge that could provide park space. The General Services Administration scrapped the plan early on.
Then, in 2014, the General Services Administration unveiled architectural designs for a new pedestrian crossing, known as PedWest, located across the street from the Las Americas mall. During community meetings, some called the rendering a "road stop bathroom" and asked for a world-class facility, but the General Services Administration opened PedWest in 2016 with no design revisions.
The General Services Administration also bought UETA Duty Free's 12-acre property to make way for the upcoming I-5 realignment. Community members protested, asking that UETA retain three and a half acres to construct a new building and a parking lot, especially since the Interstate 5 expansion would decrease the number of parking spaces available for the public. In a compromise, the General Services Administration agreed that UETA would be able to retain about two and a half acres. The company currently has leased the easement to the General Services Administration for construction trailers and will likely build in the future.
Jason Wells, chief executive officer at the San Ysidro Chamber of Commerce, said in a phone interview that he supports the reconfiguration and the opening of more lanes. He added, "We will demand that we see a huge drop in 2019 of wait times. Now, if in 2021 or 2022 it starts creeping up again, then I'll happily go after [Customs and Border Protection] and their efficiency. At least we'll know the infrastructure is there."
Wells explained that, at the end of the day, it comes down to the guy in the booth. "We could have kept our original 24 lanes and had 30-minute wait times if CBP wanted to do so."
When asked if the General Services Administration has any input into whether lanes and inspection booths will be fully manned by Customs and Border Protection agents after the reconfiguration is complete, Kleppe said, "GSA's job is to construct the facilities necessary for our federal tenant agencies to conduct their missions. If you have questions about operational elements within [Customs and Border Protection], we would direct you to go talk to them."
September 15, 2017 – 07:00
by staff reporter Hanna Hardhat  
Friday 15 Sep UPDATE: 3 different friends are sitting in traffic in Tijuana due to El Grito and Dia de la Independencia celebrations.  Avoid TJ this weekend.
Despite reports of 3 to 6 month waits for getting a new vehicle approved for SENTRI, mine was approved within 2 weeks.  Enjoyed this 2 minute wait on Wednesday at San Ysidro border crossing very much. It was 9:30AM.
Crossed northbound 6 times in past 2 months without SENTRI at SY/TJ.  Longest wait was 90 minutes and shortest was 2 x 35 minute waits in Ready Lane at SY during morning rush.  I'll call anything less than an hour at SY/TJ crossing a good day.
NOWWAITJUSTADOGGONEMINUTE Doc!  If you have a SENTRI pass, why did you not use the SENTRI LANE these past 2 months?  That is a long story.  But in addition to you being SENTRIFIED, you need a SENTRIFIED vehicle as well.
Missing the characters in the regular and Ready Lanes.  SENTRI is quick, but lacks TJ color.
Which bring us to the Border Option Bingo question.  Between San Ysidro, Otay and Tecate, which crossing is easiest?  That is not an easy question.  But, I prefer TJ/San Ysidro, using the Free Road(red route) from north Rosarito.
Several friends enjoy the Blvd 2000 strategy to Otay(yellow route).  That is a big haul east imho.
Never cross on a Sunday or during a Monday holiday without a SENTRI pass.
Other good news is that the Scenic Road is mostly trouble free and easy between TJ and Ensenada.  The Salsipuedes ever changing cone zones still exist and are a sign that 80MPH speed here is not a good idea.
The terracing construction projects on these hillsides between El Mirador and the Ens toll booth are ongoing with heavy earth moving equipment invading the highway.  Why all of the rumble strips, especially both directions at K95?  Was someone going to open a taco shop there?
There was a rollover accident being cleaned up at 6PM Wednesday southbound.
Salsi is a beautiful area and if you have the time to stop and take a breath at El Mirador, top of the hill, K84, do it.  Home is the shadow of land's end on the horizon here.  It is a gorgeous area and dangerous driving.  Salsipuedes translation is "leave if you can".
Will they ever finish this highway's rehab?  I no believe thees.  There are new terraces in at least two different areas of the Salsi Scenic Road area that are similar to the big fix on the December 28, 2013 landslide.
Safe travels.
September 11, 2017 – 07:00
I was a lucky guest this past Saturday evening at Cava Maciel winery and Chef Gilberto Morales' Restaurante Nomada.
Upon entry along the rustic stone walkway, we were greeted with a cloud refracted sunset in its last half hour of glowing.  Met Jorge Maciel and enjoyed our tour of the property.
Temperature approached high 90sF this afternoon, but, we were in cooling mid 70s now at 7PM.  Having no idea what food we would be ordering, Jorge had us select a bottle of our liking.  We picked a merlot off the shelf, but our gracious host, pulled that bottle and replaced it with one from his wine cooler for us.  I have not had a merlot in 2017.  So many cabs and grenaches get in the way.
This merlot had more fruit than others and worked well with the food fun we were about to enjoy. Oak background was ok(see "12 meses en barrica del roble") and second glass was slightly more mild here.
Chef Gilberto highlighted some suggestions.  We went along with them and asked him to bring us three plates of his recommendations.
Here is Chef Gilberto with his sea snail platter and salsa verde.
Just last weekend, Chef Gilberto and team won the Cali vs. Baja ceviche competition on Coronado Island, San Diego.   This tuna, chile, veg and guacamole ceviche was like no other.  The textures and a bit of heat were so much fun.
Lamb burritos with nopales were another surprise along with a different salsa verde.  Lamb is not my normal favorite, but, I have been tasting unique dishes like this one that are changing that opinion.  A perfect pairing for lamb happens to be a quality Merlot.  I'm guessing either Jorge or Gilberto knew this and provided the combo.
This duck breast with pozole and mole was full of juicy fat and way too much food for us.  But, we got our beaks deeply into it.  This was the best duck plate I have ever enjoyed.
As the flyer indicates, Nomada moves to a new location every season.  Happy to find them at Cava Maciel.
We give Cava Maciel and Restaurante Nomada five out of five possible Kumiai clay pots as our award appreciation of their unique ingredients, combinations, flavors, presentation and relaxing setting. It was the best dinner I have enjoyed in 2017.
Gracias Jorge, Gilberto, amigas y amigos del Valle de Guadalupe!
At K92(approx 1.6 miles north of the San Antonio de las Minas traffic light) you will see Hotel Plaza Fatima. Approx 300 meters beyond Fatima(north) on the right will see Cava Maciel's sign and a big "Las Lomas" brick wall sign.  Take that right turn from the Hwy 3 to the end.
September 9, 2017 – 07:00
September 4, 2017 – 07:00
The director general of the SCT in Baja California Alfonso Padrés Pesqueira informed that it will be until Monday 4 of September at 4 hours, when the circulation in the transpeninsular highway resumes again.
It should be noted that from Saturday to noon, the traffic on this road was interrupted due to the increase of water and azolve in the ford area located Km 175 + 200 and 180. + 000 of Cataviña.
At the moment there is surveillance in the above mentioned points and personnel of the SCT is working with machinery where it is possible to enter, to remove the azolve that dragged the current of the stream.
Although the rains have decreased, extreme precautions are recommended if they are scheduled to circulate in the south of the Municipality of Ensenada.
For its part the Federal Police Station San Quintin.
Following the information provided above and in relation to the contingency caused by tropical storm Lidia, in km.177 + 000 of the road (1300) Lázaro Cárdenas tip – Prieta same section, in the streams mentioned above, the water level has dropped to 30 cms. Allowing machinery of the Ministry of Communications and Transportation to fill with earth and stones.
In the place remains for monitoring and any support the CRP 9316, manned by the noncommissioned Guillermo angle González and Jack Omar cold Montoya same that they have provided water to take and they have lent the satellite telephone to the users of the way so that they communicate with their family members.
*************************************************************************************************
The remnants of the tropical storm "Lidia" caused the closure of the Transpeninsular Highway at the height of the San Quintín community, south of the municipality of Ensenada.
In a joint statement, the Federal Police and the Ministry of Communications and Transportation (SCT) reported that in "the stream that is located at kilometer 177" known as Cataviña "the crossing of water continues" at a height of one meter above the folder asphaltic, which makes impossible the vehicular passage.
The current situation is 25 units without being able to cross from south to north at the height of kilometer 196. The width of the channel ranges from 60 to 70 meters. There are dozens of vehicles stranded at nearby points by streams that formed due to precipitation.
Ask not to go to Cataviñá where the rains continue
BC ENSENADA SEPTEMBER 3, 2017 (AFN) .- The delegations of Bahia de los Angeles and Punta Prieta did not present major damages for the rains left by tropical storm Lidia and families that were evacuated are already returning home, reported the head of Civil Protection, Jaime Nieto de María y Campos.
"Fortunately it did not happen to the elderly and it is of note that the population that we had to evacuate in a preventative way agreed at all times, which facilitated the work of the authority," he said.
The municipal official said that so far the rains continue in the town of Cataviñá, information based on reports from the Ministry of Communications and Transportation; so he urged the community not to move to that area and to keep alert of the reports issued by the authorities.
He emphasized that due to rainfall along the Transpeninsular road, two roadblocks are reported in the El Mármol delegation, which is the town of Cataviñá, so that only four-wheel drive vehicles can circulate in these stretches due to the flood of the streams.
August 26, 2017 – 07:04
August 25, 2017 – 07:00
Bajadock: Gotta love online translation "glued to the right side".  I believe the article means is that the right hand lanes(my red no go circle) after you cross north will be closed.  That is where SENTRI and READY LANE crossers move toward I-5 and 805.  So SENTRI and READY crossers will have to shuffle left(green arrow) to the west side of the SECONDARY INSPECTION BUILDING.  That will be quite the traffic jam plus hustle to get back to I-805.
Also the Sept 23-25 FULL CLOSURE at SY/TJ Southbound is going to be a grand FLUSTER CLUCK FIESTA.  Read about it here.
TIJUANA From Tuesday 12 September to late December drivers crossing at San Ysidro and Ready for SENTRI Lane Line, find lanes closed access to Freeways 5 to 805, during the night and early morning.
To exit the federal facility will be directed towards the lanes on the left side, ie, surround the secondary inspection area.
This coupled with the scheduled closure of the checkpoint El Chaparral, scheduled on 23 and 25 September as part of the refurbishment.
The Director General of Projects southern border, Ramon Riesgo, reported that from 12 to 16 September, from 16:00 to 4:00, users crossing by SENTRI and Ready Lane lanes in San Ysidro, glued to right side, you can not move toward the freeways, nor may take direct access to San Ysidro Boulevard.
Although efforts have been made so that no closing booths, it will be for consideration by the authorities of CBP.
From Tuesday, September 19 initiates a new period of the same lane closures from 10 pm to four o'clock.
August 21, 2017 – 07:00
Grocery shopping habits are hard to break.  But, got a view of some very good quality fruits and veggies Saturday at Mayorista Mercado in Chapultepec, south side of Ensenada.
Real, green, stiff Romaine lettuce?  My typical Romaine options have been limited to a) green and limp or b) the lifeless yellow stuff in a package of 3.  Every item on these shelves was looking for a magazine cover or a crisp salad at my house.
My specific shopping was for my weekly veg fix, but, I patrolled the rest of the aisles to get a feel of the mercado.  The entire batch of avocados ranged from ready for today to ready in 3-4 days.  Perfect.
Meat, seafood(limited) and bakery selections looked great and prices were excellent.
From Reforma/Hwy1, at the Estero Beach "exit", instead of turning west, turn inland.  You will see a Calimax and a Soriana.  Turn right after the Soriana and Mayorista is just behind Soriana.  Avenida Lazaro Cardenas is the Estero Beach street name, just in case a sign would pop up and surprise you.
Gotta love Google Maps showing Tacos El Original as a landmark for this area.
August 6, 2017 – 07:40
Saturday's "transporter" thrill ride included some amazing scenery, surprising fuel efficiency and a speedy border crossing south at Tijuana.  Transported vehicle A from Reno to San Diego and vehicle B from San Diego to Ensenada.
Decided upon I-359.  Interstate 5(oh, excuse me "THEE 5" for californicators) is a horrible drive.  Ever try Bakersfield for a vacation?
Began the day just south of Reno, NV at the Bridgeport Inn.  This is a "charming"(translation = overpriced) motel with a funky bar and restaurant. Bar and restaurant were booming and all of the serving plates looked delicious, including prime rib.
It was a quiet sleep Friday night with shared bathrooms for a hallway of approx 8 guest rooms.
It was definitely basic "sheets and shower" + wifi,  my only needs for a guest room.  Had a couple of Stellas in the bar, then crashed in bed.  No a/c., no tv.  Don't need tv and glad I was at 6,643 feet above sea level for cool climate.
As I put my stuff back into my vehicle at 6AM, I smell doughnuts.  Not a doughnut fan, but where doughnuts march, a babbling brook of coffee is usually nearby.
Love small towns and their mom/pop business establishments.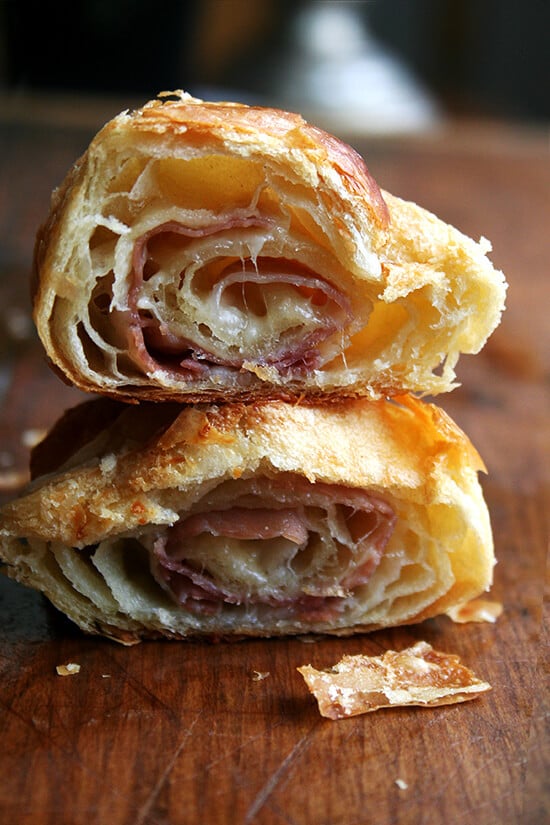 Told owner I would be interested in something, but, that I'm not a very sweet guy.  She showed me 2 trays of puffy croissants with ham and cheese.  HEAVENLY were the smells of the croissant and Blind Dog coffee as I began my trip south.
50F degrees in summertime at sunrise is a wonderful thing.
About 15 miles south of Bridgeport, I was greeted by this fun sunrise at Mono Lake.
The hills and lakes south of Reno, Yosemite and Mammoth Lakes is a fun area that I had never visited.  But, this was a pedal to metal "Transporter" day and I had little time for play.  Will return for fun in near future.
Luv seeing snow on mountains in summer.
After coming out of the pine tree paradise into the desert after Bishop, CA, had to turn my cruise control on and search for music.  The stretch from Bishop to San Bernardino is a big snooze.
Every time I am in the San Bernardino to Temecula(or versa vice) parade, where do all of these cars come from?  It is always a parking lot and I hope to not return for many years.
Great news is that the Tijuana El Chaparral border crossing south at 5PM Saturday is easy.  Only saw one vehicle pulled over for inspection.
The beach and trash were crowded at Playa La Mision. I wonder how often they haul away that huge trash dumpster on south end of beach.
Someone please tell me what is attractive about this scene at Playa La Mision?  No wonder that I am a monk.  Maybe they are all from Mexicali where it is 200F degrees.
I prefer my beaches like this one at Poco Cielo, La Mision.
Got home at 7:30PM for a 13 hour drive with only one coffee, gas, bladder stop.
My one day drive record is just over 1200 miles.  That was Parker, CO to Coeur d'Lane, ID in 2000, where I set my personal land speed record of 154mph.  Needed to verify that the 911 Targa would perform as described in the owner's manual.
Thrilled to be home.
My "Transporter" movie crew:  Thanks to "PS" for the white whale, "R" for brief relief on electrical project, "D" for quick hidden storage solution, "R" and "R" for security team, "I" for camera work and "H" and "J" for happy hour.
Special assist goes to the entire team at Lithia Subaru Reno.  These pros know how to take care of customers.
These events occurred between 6AM and midnight Saturday.  No animals(OK, a few thousand bugs were eliminated at 75MPH) were harmed during the filming of this movie.