by staff appliance repair editor, Maynard Maytag 
This is a real photo of my frig.  The view is of the coil that has frozen over because of a faulty fan not circulating air.  It is odd that more frost here actually creates a warm frig chamber, while the freezer section cools properly.
Had the same issue last summer and was fortunate to find a technician who knew how to fix it quickly.  That tech warned me that he was installing a used fan and that it would work for short term.  I should buy a new one asap was his advisory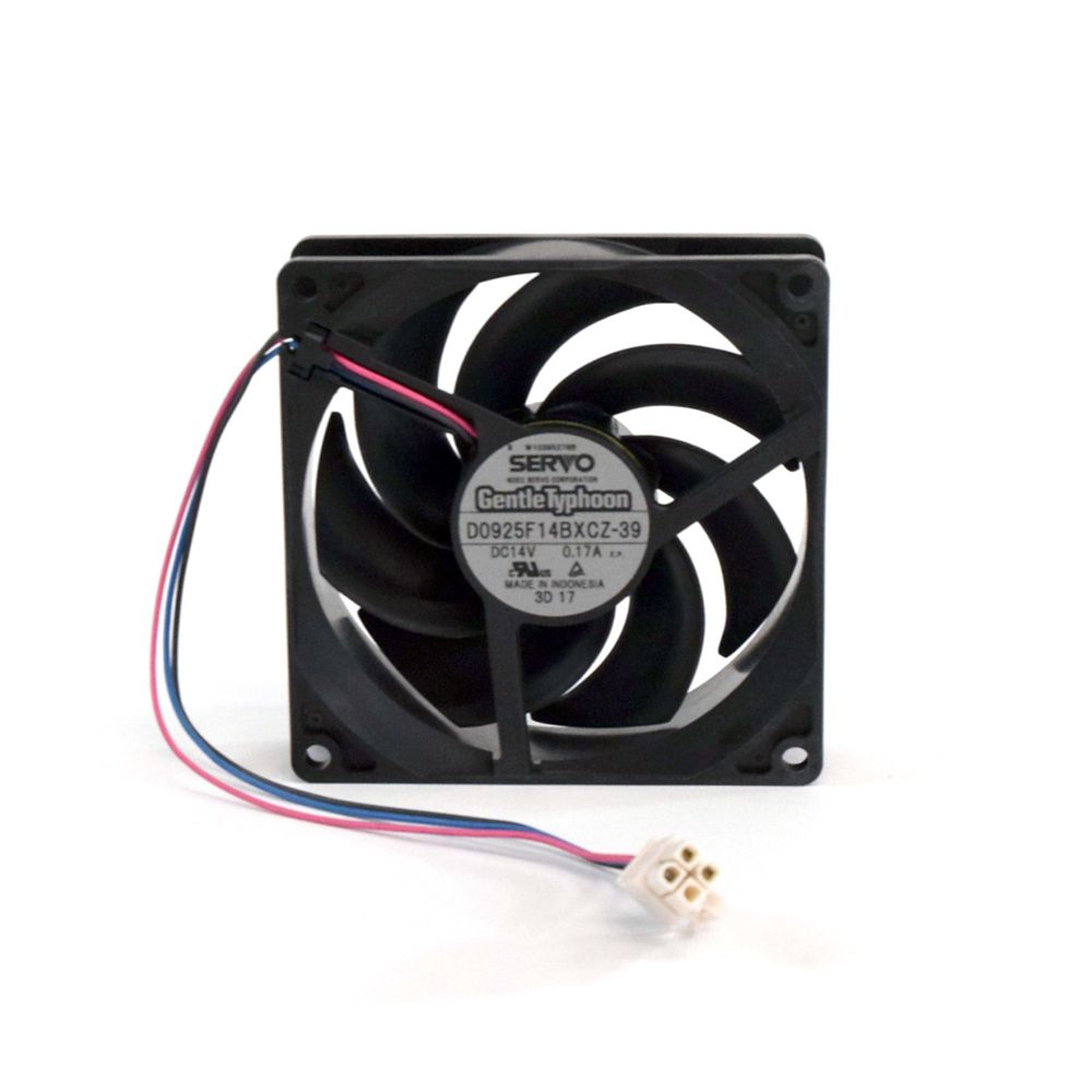 This is the little guy(approx 4″ x 4″) that fits in the space just above the iced coil(see 3 black rubber pegs).  Ordered it last July.
Have been traveling a lot recently, but, noticed my frig temp warming slightly 2 weeks ago.  Upon return from my trip frig temp was all the way up to 48F.
Great news is that I had served my frig repair apprenticeship last summer.  Boiling water and a hair dryer are key tools for this fix.
Had to figger out a way to rig in the new fan as it did not come with the black rubber connectors.  Pipe cleaners, used for wine glass personal markers, are always a handy household tool and were perfect for attaching the little fan in its tight compartment.
Brimming with machismo I plugged the fan into its wiring socket and…hmmmm.  No hum, no whirling blade, nada!  After 90 minutes of work defrosting and my ez fix is not working?
After a few deep breaths, I plugged in the old fan.  Nada!  WTF?  Did I detach or crush a wire during my ice crushing?
Patience is an amazing thing.  It took the frig a couple of minutes to cycle and the whirring fan blades were a happy sight.
What a great excuse this was to clean my frig shelves and drawers.  But, it did ruin a hair dryer.
One of the most frustrating little details of my frig is reinstalling the two veg/fruit drawers.  What a mouse trap contraption to assemble.
Thrilled to see my interior thermometer read 45F after a few minutes and settling down to 40F after about a half hour.