This is an official Bajadock Ens-SD-Ens whirlwind trip report
My day began at 6AM in the fog on my way out of Ensenada up to San Diego for a Saturday shopping adventure.
One of the interesting observations was the speed of the San Ysidro border SENTRI lanes Saturday morning at approx 08:30.  Happened to have friends approx 10 minutes ahead of me in lane 3(counting right to left) of SENTRI.  I chose lane 1.  I could spot them way ahead of me and we conversed about our positions.  For whatever reason, they took approximately 10 minutes longer in their lane(maybe a 20-25 minute wait) than my spot.  I waived bye bye to them as I swiftly moved toward I-805 to my first stop in Mission Valley, San Diego.
Checked southbound traffic coming opposite way into Mexico at 9AM and it looked to be a significant(40+ minutes?) wait.
ACT II this morning was my rare visit to La Jolla.  I happened to be in a shopping center on Nobel Drive featuring Whole Foods.  I have never seen so many perfectly sculpted, manicured and tailored ladies out shopping on a Saturday morning since Tina Louise and Nanette Newman's performance in Stepford Wives.  Perhaps it was my filter, but, where were the matching Ken dolls?
Needed coffee and wifi at this shopping center.  Tried Rubio's("we don't do coffee), a juice bar(shouldn't they provide noise cancelling headphones for the cacaphony of Ninja blenders?), a Peet's Coffee(closed/moved) and one other shop.  For the love of godesses, how do I find coffee?  Stopped into the gigantic Whole Foods and found a bar, a deli, some other food cafeteria, lots of juice and other stuff.  "Do you have coffee brewing around here?". The coffee was way over on the other side with a lineup of 10 people ordering their caffeine and sugary cake/doughnut/chia seed bar experiences.  My "small brew of the day" order clearly screamed that I'm not from around here.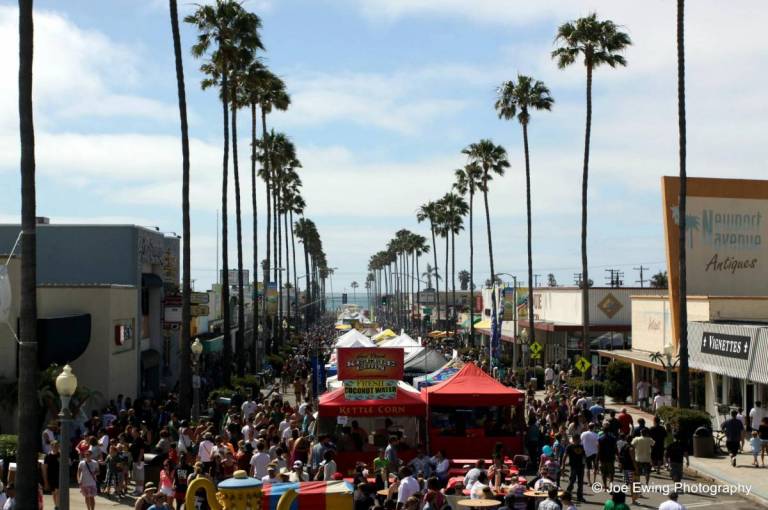 OK, back to road conditions.  The SoCal beaches should be avoided at all cost during summer.  I was meeting a friend in funky little Ocean Beach for happy hour.  I'm a fan of O.B., except for this Saturday.  Street Fair and Chili Cook-Off had several blocks closed, parking limited and traffic in grid lock.  After one loop, found a parking spot .9 miles away from my destination. Finally reached the best fish tacos on the planet.  Enjoyed a fun conversation, fabulous grilled wahoo fish tacos and a cold beverage to soothe my traffic stress.  Great news was that my well practiced O.B. exit strategy of Narragansett to Harbor Drive to Grape Street to I-5 was without traffic.
San Ysidro/Tijuana southbound border wait was only about 10 minutes at 8PM last night.  So many try so hard to merge to the right hand lanes at the El Chaparral crossing.  I go with the flow and find it easy to navigate after the inspection stations from left to right to gain access(red dot, above photo) to Playas Tijuana and the Toll Rd/Scenic Hwy.
Approx 45 minutes south of the border, the Scenic Road merge just south of Baja Mar for approx 2 miles into 1 lane was not so easy at night.  There are some reflectors, but, please take it easy through both the choke down ramp to 1 lane and the ramp back to two lane just before the Sempra energy plant.
Same precaution needed for the K87 – K91 one lane merge ramps, both southbound and northbound through the Salsipuedes Bay stretch. At night, the lumps, bumps and turns from the height of El Mirador all the way to the 'Nada toll booth is danger zone.
This flustercluck was Saturday's big news in Ensenada beginning mid-morning.  This happened near the Las Rosas resort, approx 3 miles north of downtown Ensenada.  Reports are that it was cleared at 4-5PM.  But, traffic throughout the day was backed up all the way to the Ensenada toll booth for southbounders.  A similar event closed Hwy 1  in a spot just south of Coral Hotel in December 2016.  Thankful that noone was hurt and that 'Nada traffic was easy during my 9pm passage.
"We're going to need a bigger crane"
This is my fuzzy after-DUI-checkpoint view through my rear window on Estancia, just inland from Playa Hermosa(Ens largest beach).  They move these checkpoints around and were reserved for just the major holidays.  The new Ens administration has them out for most Friday and Saturday nights.  Saturday's checkpoint here has approx 6 vehicles and 12 dudes.  Saw two cars pulled over into a "secondary" closer inspection.  I simply offered the officers a cold six pack of Colt 45 for my easy passage.  8)
So, don't drive at night, y'all!  Hey, I needed to get home and my eyes are good at my advanced age.  Most frightening thing was a tumbleweed that attacked me from nowhere, just after Sharkey's bar.  10PM Saturday and Sharkey's was still doing a decent beverage business.
Pacifico and a diy pizza at 11PM were fabulous rewards.  Slept great last night.  SALUDOS.