Three weeks ago, noticed that my referigerated beer was on the lukewarm side.  That Luke guy must have been a charmer to get all of that recognition for so many years.
Deployed my handy frig thermometer to see what was happening.  52F-ing degrees?  Ouchees.  My Frig wars from December/January are back!
Freezer was doing its job freezing ice and at 0F degrees.  Reading various diy articles on the cold freezer + warm frig diagnoses, most likely air is not moving properly due to ice blockage.
Thought it must be simple, but, a bit beyond my screwdriver skillset.  Against my better judgement called repairman "N", who helped me years ago, but, failed me this past January.  He shows up and says "needs freon".  Well why the heck is the freezer compartment working?  Then he tells me he forgot to bring his freon can and charges me 200 pesos.  He did not forget to bring his girlfriend with him on his visit to the clouds in our panoramic neighborhood.
Per my January story of frig drama this winter, I think many of these frig dudes have two paths of income.  One is their freon can.  The other is swapping compressors.  Essentially they can prescribe drugs(freon) or do heart surgery(compressor).  They know nothing else in between.  New compressor is likely a $300USD fix.  I went through 4 "recommended" frig repair guys in December and January before finding someone who knows refrigerators.
Called my #1 frig tech, Angel, from El Primo appliance store in Los Globos segunda district.  He was busy that week, but, would get back to me.  He did call me back later that week to let me know he would get back to me next week. Nada.  Angel truly knows appliances.  But, he is difficult to engage for a service call in my remote part of the universe.
Are they clever enough to slow walk my frig repair to parlay that into me buying a new frig?  Hmmm.
Having penciled in my mind the $1,200USD for a new frig, what should I do?  The drama is not urgent, as I have a freezer full of good food, lower drawers in that frig that are at 40F cooling veggies and a spair dorm frig taking care of me.  But, the 2.5 weeks of frustration is clawing at my attitude.
Picked up my vehicle this Wednesday from our neigborhood mechanic who is the perfect technician.  He does what you want, usually is down within 24-48 hours, calls you with options and will also offer advice on other diagnoses for future repairs.  Wish I had a guy like him for all of my other repair needs.
With my fixed car on my way downtown Wednesday, decided to give Angel, frig tech expert, one more try.  Headed to El Primo appliances(Angel's shop) with flan and watermelon for Maria, the owner.  Wrote a letter in Spanish explaining my frig diagnosis of cold freezer/warm frig and stapled 500mnp to the letter.  Added a 12 pack of cold Tecate for Angel.
Maria had Angel on phone immediately.  Friday visit was promised.
Friday 5:30PM, Angel calls and says he'll be at my house in one hour.  But, he also asks me questions about the frig behavior.  My Spanish is sufficient to explain the congeledor frio/refrigerador caliente aventura.
At 6:25, I see Angel's smiling face.  Angel looks like a MLB shortstop who should have plenty of groupies attending to his needs.  Like most good techs, he is small on bullshit and quick and curious on what is wrong with my frig.  In January, he guessed what was wrong with a bad upper coil, took the frig on a Friday at 6PM and had it back with new coil on Monday at 6PM.
On today's visit, he opened up the panel behind my frig veg drawers to show me the glacier of ice covering the lower coil.  Chopping with a screwdriver, using a paint heat gun and boiling water, we cleared the ice.  Angel, guessing the fix, brought a spare fan to replace the bad fan that was causing the ice buildup.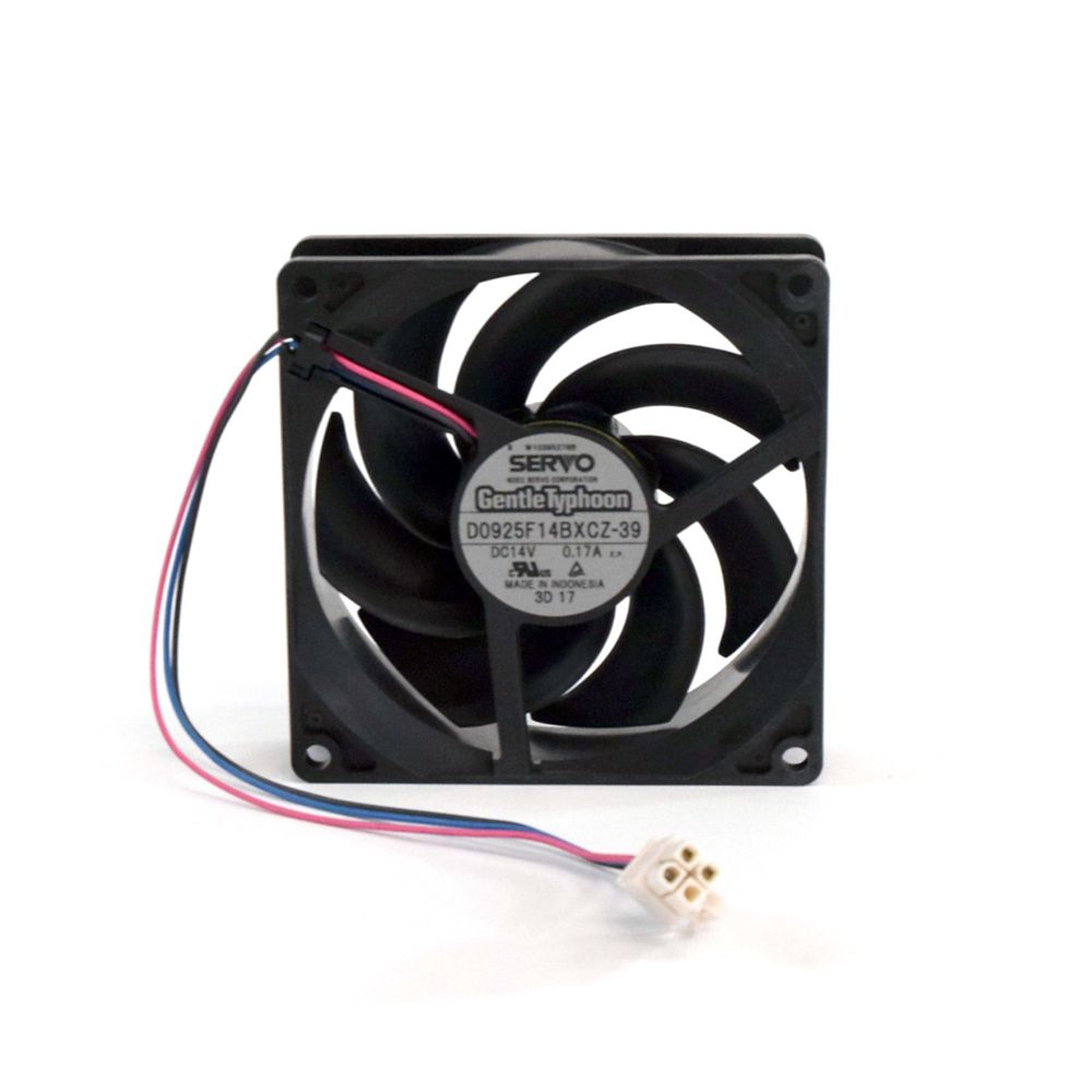 This little guy, approx 4″ x 4″ was causing me all of this grief.  Looks like it costs $5 bucks in China. It is an evaporator fan.  "Evaporator fan motor W10395278 circulates air through the fresh food compartment for efficient cooling."    The fan is approx $45 at SearsPartsDirect.  Use PARTS17 for a 15% discount.
Angel charged me a whopping 1,000mnp(that's a whopping $60USD) for the 1 hour of work, plus 45 minute commute to/fro my house.  OK, add on the 12pk of Tecate Roja, the gas money and the sweet goodies for Maria, and I'm likely paying $110USD for the service.  Could not get that deal in USA.  And I would have missed out on practicing my Spanglish and learning more about Mex cultura!
Simple things make life so happy.
El Primo, Maria, 646-177-3177.  El Primo sells and services major appliances.  Español solamente.
May your appliances enjoy a wonderful Independence weekend!