It had been a few years since my last trip up to the Tecate border crossing until this past Saturday.
1. Baja 500 spectator traffic was significant using the 9th/10th street Ensenada bypass.  Also glad I did not venture from Ruiz to the Libramiento(Ens Beltway that is unfinished) as a cop car was stationed for whatever purpose at Libramiento/Hwy 3 intersection.
2. Hwy 3  from the coast through the Valle de Guadalupe is clean, smooth and fast.  Wine valley had a good amount of traffic.  Hopefully, this was due to tourists spending money at the wineries and restaurants.
3. Traffic begans= to bunch just north of L A Cetto in the curving canyon.  See lots of new routing planned with big bridges, concrete and rebar platforms and cone zones.  Buses, trucks and others will slow here so practice your patience.
4. Approx 1K gravel/dirt stretch at K60 is a detour that put me at 30mph for comfort in my Pontiac Vibrator.
5. The new(2015) shortcut of Tecate-Ensenada at K37 saves 8K AND loses the goofy military checkpoint in that old loop.  Red route in above photo replaces "ruta actual" as of spring 2015.
6. Truck traffic was significant this Saturday.  Most truckers move right to allow easy passing.  But, I encountered 2 exceptions in the hills approaching Tecate.
7. The land of 1,000 stop signs(Tecate) added 2 new ones on approach from the south.  Saw 2 California plated vehicles enjoying a "chat" with policeman.  Just stop.  Completely.  And pause.  At every stop.  Geezo!
8. Saw someone's post on attempting simple instruction on how to get to the Tecate border crossing: "Just follow the signs to San Diego".  HUH???  OK, there are more signs, but, follow my green dotted wraparound to approach the border.  McD and Baseball stadium are your icnonic landmarks to drive east approx 1K, cross RR tracks, left at traffic light, left at border fence.
9. Great news was my Saturday 3PM crossing put me at vehicle #4 for a less than 5 minute wait.  At 100F temps, that was a relief to get out of there and get moving.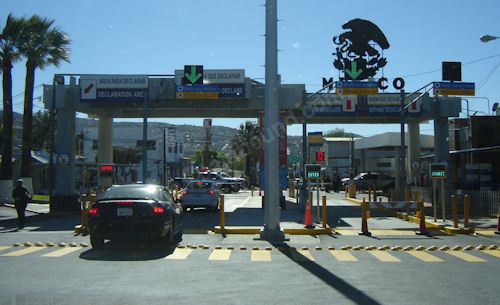 photo of Tecate south border xing courtesy of Bajabound Insurance
10. A few days later, experienced my first ever crossing south at Tecate.  I can imagine the Tijuana border crossing south being this simple and easy 30 years ago.  What a fun entrance this is to the Mexican culture.  Drops you into the city park with good signage to snag hwy 3 to get back to Ensenada.
Will stop for Tecate tacos on report on food for my next trip.