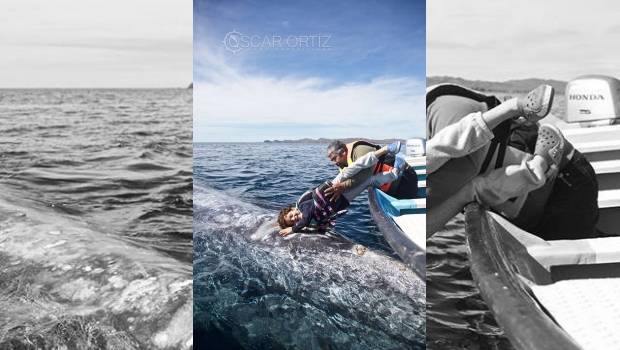 Bajadock: "I'm going to lower you into the whale's blowhole.  Whales, like any other animal, just love it when something crawls into their schnozz!".
The image became immediately viral, and many wondered how correct was the action of a minor.
. La Paz, BCS  A photographer managed to capture an image rarely seen: a child hugging a gray whale while holding a person from the boat service provider.
Although the photograph had many people in his favor in social networks, there were others who questioned the action and irresponsibility of the company.
"A clear example of what we should do when we go to watch whales, this is a great irresponsibility of the parents, the boatman and / or guide and the same company providing the service since it endangers the life of a person, in this case, a child , "saidthe Voice of the Pacific on their site Facebook.
According to Mexican Official Standard NOM-131-SEMARNAT-2010 , in which the guidelines must follow the service provider listed for observation, a smaller vessel may be placed 60 meters away from the whale.
"During the activity of whale watching may not: Harass, or damage in any way the whales and obstruct its course. It cause scattering of whales, "read another clause of the standard.
The gray whale (Eschrichtius robustus) is played only in the Pacific coast lagoons of  Baja California Sur and is usually dispersed in the Gulf of California and south to the Bay of Banderas and occasionally near the Revillagigedo Islands.