I am not as crazy about hot sauce as many of my fire breathing friends.  But, Baja living has introduced me to a variety of interesting salsas.  Funny thing is that one of my new favorites, Hot Licks Serrano Salsa, was introduced to me at San Diego's Broken Yolk Cafe last October.
Enjoying my omelette at the Yolk, I found Hot Licks' web page and a retail location in Old Town San Diego.  GREAT, I'll just hop over there and pick up a couple of bottles of Serrano juice.
It only took me 4 months to get around to it and I stopped into Hot Licks shop in Old Town yesterday.  They are not that easy to find.  Yep, I could have purchased the sauce on their website, but, I have never been to a shop dedicated to hot sauce.
Parked at the Twiggs Street lot(free) and found an information booth.  Much of Old Town is a pedestrian plaza, so you have to hoof it.  Was pointed north on Calhoun.  Nope, I'm not thrilled by blacksmith shows and other cheesy tourist drama skits, bah humbug.  Avoided the jesters shewing the crowds toward the big show, as I had a hot date to engage.
Turned right at the fountain to a "Fiesta de Reyes", a garden setting of shops and restaurants.  Ironically, my visit was on Dia de Reyes, 6 January.
"Hot Sauce" sign left pointed me to Hot Licks.
If you like hot sauce, you GOTTA go here.  They have loads of open bottles to sample what you need.  See the "samples available" sign?
Paul at Hot Licks asked me if I wanted to try the extra hot Serrano.  I graciously declined, indicating that MEDIUM hot sauces and salsas are my favorites.  I prefer flavor not overwhelmed by the heat of the chilis.  Paul's opinion was that the regular Serrano is a 4 out of 10 and the extra hot version was only a 5 out of 10.
After purchasing my Hot Licks, I asked if there was a wifi cafe nearby.  Was pointed to Viva El Cafe, which is hidden behind the Casa de Reyes restaurant.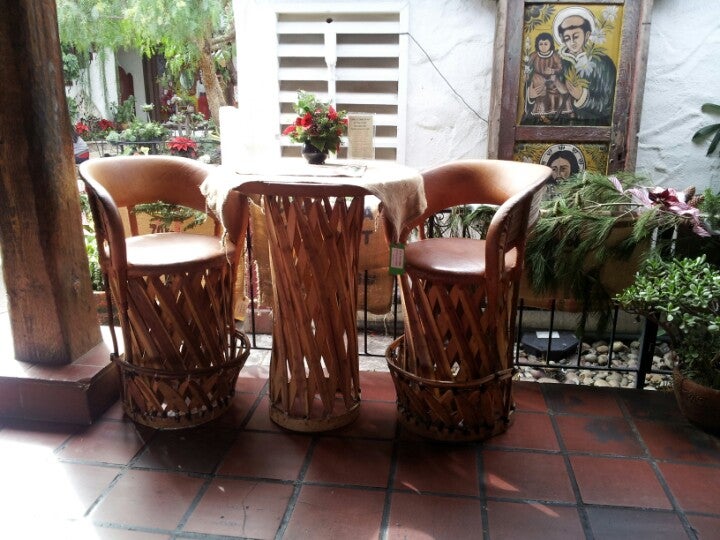 Kim, at Viva El Cafe, served me a fresh cup of iced tea and we chatted about living in Mexico.  She has a home in Puerto Vallarta.  I caught up on phone calls and email.  Indoor and outdoor seating is available and pleases me greatly to enjoy an independent cafe(family owned) away from the strip mall concrete of the city.
I'm lucky to have found this little spot, thanks to Hot Licks and Viva El Cafe.  I'll find the parking next to Juan Street on my next invasion.
May try a margarita at the Bar.